Bottom Bracket Standards (Bafang or Tongsheng motors)
What is a bottom bracket?
The bottom bracket is an incredibly important part of your bike. It attaches the pedal cranks and chain wheel together and allows them to rotate freely off the frame. They are normally threaded, so can be unscrewed, but some (more expensive) bikes have ones that are pressed directly into the frame.
Most modern designs are in the form of a cartridge and are designed to be binned and replaced when they wear out.
If you choose to use a mid drive motor such as a Bafang or Tongsheng, the original bottom bracket is removed, and the motor kit has a built in replacement one. As such, it's important to look at your existing bottom bracket and check that the new one will fit. The good news is that most bikes made before 2012 using a BSA type square taper bottom bracket which these motors will fit. If however you have a later bike, especially if it is a more expensive one, please check the type of bottom bracket and then read on for advice. Alternatively, get in touch with us!
What are the various standards for bottom brackets?​
Although there are lots, most bikes are made with a limited number of standards. This guide explains what those standards are and if the Bafang BBS01b, Bafang BBS02b, Bafang BBSHD or Tongsheng motors will fit.
BSA / Square Taper / Threaded / Sealed
This is the most common bottom bracket standard and one that we see on 90% of bikes that we convert. The chances are that if your bike cost under £500 and / or it was made before 2012 this is what it will have.
They are screwed into place using a bottom bracket wrench, and can be internal (as in the first picture) or external (second picture).
Internal Bottom Bracket
External Bottom Bracket
The bottom brackets of this type found on most bikes are 67 or 73mm long. The good news is that Bafang BBS01 and BBS02 motors are designed to be a direct replacement for these.
There are also 100 and 120mm variations, generally found on fat bikes. It is possible to buy an adaptor to enable the BBS01b and BBS02b motors to fit, however neither is factory built to fit these larger sized bottom brackets. The BBSHD is however available to buy at 100mm and 120mm widths.
Tools? Either an internal bottom bracket socket or external wrench or socket. The pictures below show an internal socket and then two types of external wrench.
Be aware that the external type can be either Shimano or SRAM fittings. The tools look similar but have a different number of teeth.
When using the tool, remember that the chain wheel side is reverse threaded. So to undo this side, you need to move in the typical 'tighten' direction.

Cup and Cone (Traditional)
The original type of bottom bracket. If you are converting a bike from the 80's or 70's, you may come across this type of fitting. The good news is that once the bottom bracket is removed, they are generally the exact size to take a Bafang or Tongsheng motor.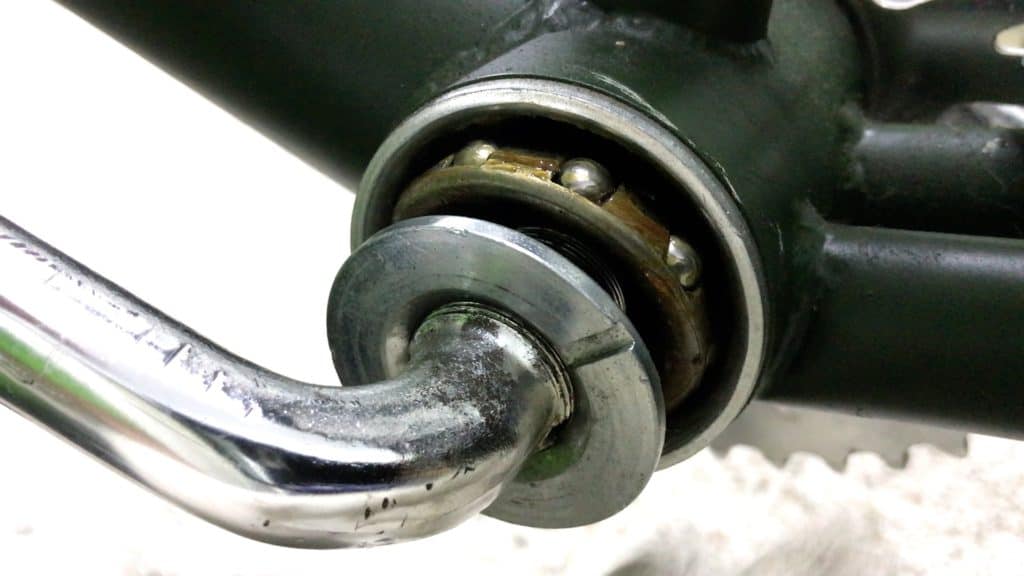 The cup and cone bearing can be removed by using a straight edge screw driver pushed into the grove (see the photo above) and then gently knocked with a hammer to turn it.
Press Fit Bearings – BB30 and PF30
Unlike square taper / threaded bottom brackets, these use bearings that are pressed directly into the shell (ie frame). The BB30 started this trend, and was then improved by the introduction of the PF30.
The BB30 and PF30 are the only press fit bearings that a Tongsheng or Bafang BBS01/BBS02 motor will fit. You will need to purchase a BB30 or PF30 to BSA adaptor which shrinks down the bottom bracket diameter to a BSA size. Without the Bafang or Tongsheng motor would be loose.
BB30
Shell width will measure 68mm (road) or 73mm (mountain)
Shell inner diameter (ID) will measure 42mm; BB30 bearings have a corresponding outer diameter (OD) of 42mm
Bearings press directly into the frame and stop at removable snap rings
PF30
Shell width will measure 68mm (road) or 73mm (mountain)
Shell ID will measure 46mm
Both PressFit 30 and BB30 use the same 30mm ID bearings and 30mm spindle cranksets; the difference is that PF30 bearings are contained inside cups and the cups are pressed into the frame
The shell will have a smooth bore (no snap ring grooves); the outer lip of the cup contacting the frame is what stops the press action
Removing these bottom brackets will require a specialist press fit bottom bracket tool set.
Press Fit – others
PF41/BB86/BB92
These require a specialist adaptor for the bottom bracket (please contact us for advice). They will also require either the BBSHD in 100mm width, or a BBS02 / BBS01 with a 100mm adaptor. There is no option available for the Tongsheng motors.
Shell width will measure 86.5mm (road) or 91.5mm (mountain)
Shell ID will measure 41mm
Bearings are contained inside cups which are pressed into the frame; shell has a stepped design but there are no snap ring grooves
Please note that without having an adaptor milled for you by an engineering company no other press fit standards with allow you to use a Bafang or Tongsheng motor.